Certified safes for your needs

WHO WE ARE
Seifuva is a metal manufacturing company specialized in safe production.
About the company
Established in 1991, Seifuva has 30 years of experience in metal processing.
Over that period, the company has gradually mastered safe production by applying innovative product design and safety solutions. Today Seifuva can offer a variety of certified safes and manufacturing capacity for private brands.
Alongside its standard production, the company has recently launched a next-generation luxury gun safe GUNTRESS for those wanting to keep their valuables safe yet visible.
The vast majority of Seifuva's products are exported to clients in Scandinavia, Germany, UK, France, and other countries.
Committed to long-term relationships
We have been working with some of our clients for more than 20 years. Mutual trust and shared values are essential for the steady growth of both parts.
To maintain the quality standard we strive to keep the same reliable suppliers of raw materials and components.
Quality is paramount
Safes by nature require precision. A highly skilled team of professionals, modern equipment, and carefully selected materials, locks, and other components allow us to ensure the superior quality of our products.
Acknowledged production
We produce grade S1, 0, and 1 safes according to ECB-S requirements, as well as SSF3492 and FG certification for Scandinavian markets.
Seifuva has been a member of the international safety association ESSA since 2011.
Flexibility and responsiveness
Private label production according to your specifications.
Being a relatively small company, we are flexible and quick enough to transform your ideas into the final product.
Having implemented multiple custom projects, we now have essential skills and expertise to offer win-win solutions.
Laser cutting machine Bystronic ByStar Fiber 3015.
0,5-25 mm sheet, max dimensions 1500×3000 mm.
CNC punching machine Finn Power C6.
0,5-8 mm sheet, max dimensions 1500×3000 mm.
Bending machine Bystronic Press Brake Xpert 150/3100.
Bending machine Finn Power 120-3100TS1.
0,5-6 mm sheet, max bending length 3000 mm.
Yaskawa Motoman Arc Welding Robot.
10 manual welding posts.
Manual powder coating.
Max dimensions 1000×2000 mm, max 300 kg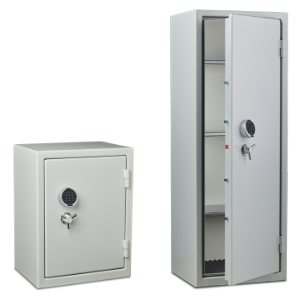 Document safes
Burglary protection: grade S1, 0, 1. 
Safes and cabinets of various sizes designed for keeping documents, keys, and important files.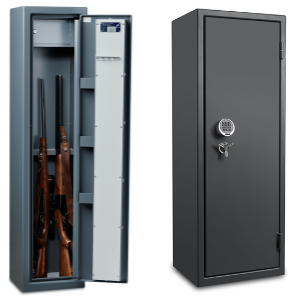 Gun safes
Burglary protection: grade S1, 0, 1.
Safes of various sizes designed for keeping guns, ammunition, and accessories.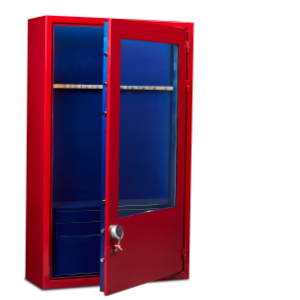 Luxury safes
Multipurpose GUNTRESS safes with bulletproof glass doors designed for keeping guns, jewellery, documents, and other valuables.
Visit the e-shop
Get In Touch!
SEIFUVA, UAB
Company number: 110032524